Luxury Services & Amenities In Seascape
As a boutique hotel in Agia Pelagia, Seascape Luxury Residences offer a wide range of upscale facilities and services, ensuring a thrilling holiday experience. With endless possibilities for entertainment, everyone will be delighted.
At Seascape Luxury Residences everything has been designed with your comfort in mind. The lovely reception area which greets you on your arrival also offers storage for your bags and a wide range of help and ideas: on excursions to enrich your vacation experience, shopping, water sports, help in renting a car, catering options and all kinds of other services and assistance.
Besides the carefully designed rooms, another attraction of the Seascape Luxury Residences are the beautifully landscapes common areas with the two pools and pool bar, which together comprise a special oasis of tranquillity and relaxation.
Additionally, there is free Wi-Fi service throughout the entire hotel complex, so you can stay connected to the world - even while enjoying the most relaxing vacation ever.
Services
Facilities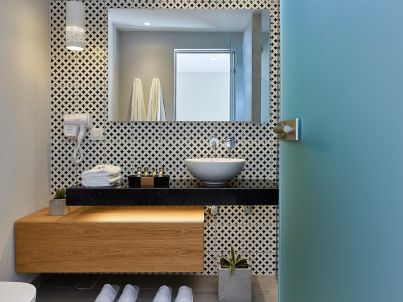 A Luxury Haven In Agia Pelagia With Exceptional Amenities
Explore Seascape's personalized experiences and curated amenities. Create long lasting memories.
A Glimpse Into The Captivating Beauty Of Seascape
Not convinced yet? Have a look at Seascape hotel in Agia Pelagia. A picture is worth a thousand words!
EXPLORE MORE

>