Your relaxing getaway starts in Agia Pelagia
Experience a world of relaxation at the exceptional Seascape hotel in Agia Pelagia. Treat yourself to wonderful snacks and refreshments.
Seascape Luxury Residences' pool bar is a point of reference and rendezvous from early in the morning until sunset. Located in the centre of Seascape hotel, the pool bar beckons with snacks and refreshments for the utmost relaxed experience.
Its strategic location between the hotel's two swimming pools and the delicious selection of cooling fruit juices, sodas, cocktails, coffee and snacks, make it an oasis of enjoyment and tranquillity.
You are sure to love this cool corner for unwinding, relaxation and summer indolence. Select your choice of tasty wine, try out new flavours with local delicacies or simply enjoy a refreshment to quench your thirst from the often scorching sun!
Pool bar all-day specials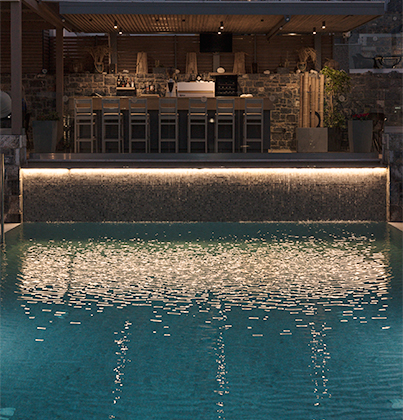 Prime Location & Atmosphere
A carefully curated hotel arrangement takes your experience to the next level. Unwind by sunbathing in the swimming pool, while enjoying Seacape's select refreshments!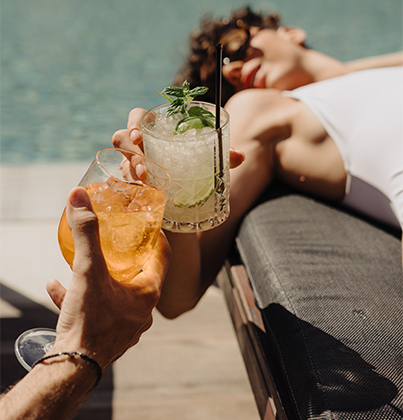 Delectable Beverage Selection
Warm or Iced Coffee à la Grecque, local wine, a variety of drinks from fruit juices to sodas for all tastes and even handcrafted cocktails in the sunset!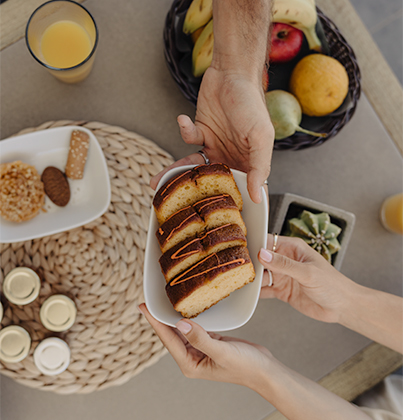 Culinary Delights
Discover our tempting selection of sweet and savoury snacks, from light bites to substantial local treats. Lay back and enjoy a taste of Greece!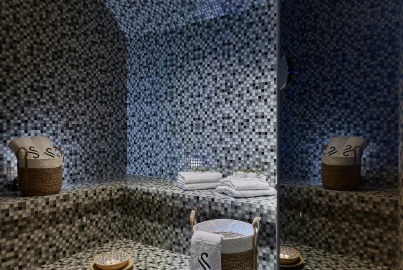 At Seascape's modern Spa in Agia Pelagia, we've designed a serene place dedicated to wellness, relaxation and toning!
EXPLORE
OUR SPA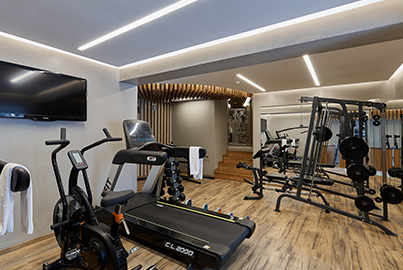 Seascape's Gym in Agia Pelagia: An area dedicated to strengthening mind, body and soul.
EXPLORE
OUR GYM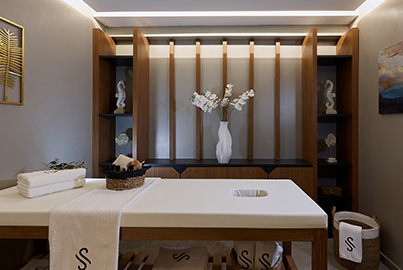 The vacation service you didn't know you needed! Complete your Seascape experience with the best massage in Agia Pelagia!
EXPLORE
OUR MASSAGE

FAQs about Seascape Pool Bar In Agia Pelagia
Explore our selected array of snacks and refreshments from sunrise all the way to sunset. Make sure to ask our trained staff for more information on Seascape hotel in Agia Pelagia.
The pool bar at Seascape hotel in Agia Pelagia is exclusively available for the enjoyment of our hotel guests, creating a serene and private atmosphere.
To maintain a comfortable and allergy-free environment for our guests, the pool bar area at Seascape does not permit pets.
Seascape offers two inviting swimming pools for the exclusive use of our guests, providing ample space for relaxation and enjoyment. Secure a room close to the pools on our Accommodations page.
Absolutely! The Seascape pool bar in Agia Pelagia offers a delightful selection of coffee and snacks, creating the perfect setting for relaxation by the pool.
Reservations are not required for the pool bar at Seascape. Guests are invited to unwind at their convenience and enjoy the refreshing offerings at our poolside oasis.